Coffee preps me for the day ahead. I love the smell of coffee and how it tingles your senses. As I write this memoir sitting at my workplace with a cup of coffee, the fresh mountain air comes wafting to me from the small Italian café that Rahul (our tour director) took me to at Kagbeni in the Mustang valley in Nepal.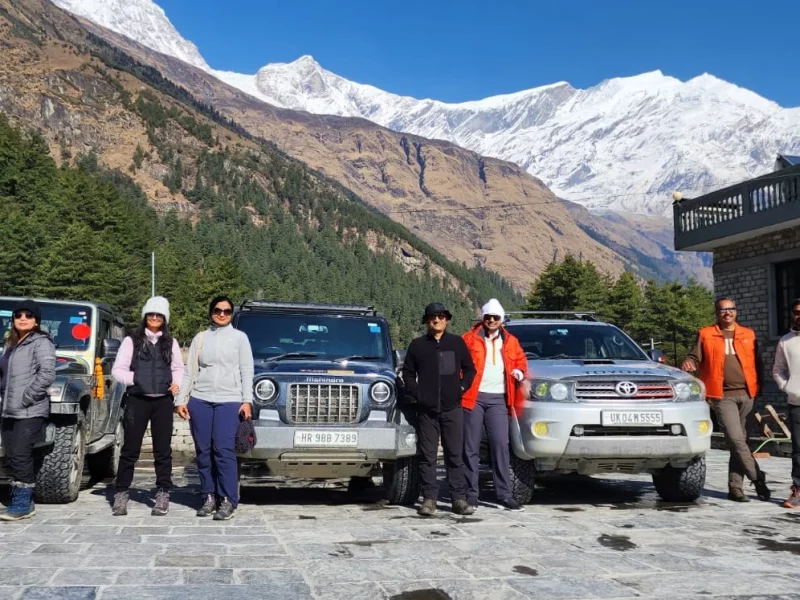 I had never thought that I would get to Nepal by road. These thoughts would come momentarily when I saw Nat Geo travel videos on TV or saw an adventurists YouTube Channel. Little did I know that a chance meeting with the owner of a travel company would change everything for me.
A chance meeting with Rahul Chauhan
I was back in Jaipur after a year. My mom sent me off to Laxmi Mishthan Bhandar to pick up some kachoris (a savory snack) for her. There were 4 left and Rahul and I were at the cash counter, trying to pay for them at the same time. I realized that he's a tourist and offered it to him, and after a lot of back and forth, we ended up sharing kachoris and some other snacks at my home!
Rahul told me that he runs Planet Way Round, a travel company that takes motorcycle and 4×4 overland trips to exotic locations around the globe. Somehow the conversation shifted to Nepal, and I mentioned that I had 18 days' worth of leaves that would expire the next month.
Why don't you come with us to Nepal?
Rahul showed me some videos of his bike rides and 4×4 drives to Nepal. I kept looking at them for an hour and he had to leave, but dropped his contact information with me and promised to send some over for me to think about the trip.
A newfound Nepal obsession
Ever since Rahul left, I could not stop thinking about the trip. The 20 videos and trip details Rahul sent were not helping. In the end, I gave my boss a call and told him that I will take 18 days off. We worked things out, I packed my bags and called Rahul. "I'm coming with you to Nepal!!" I said. He was quiet for a minute, on asking, he told me that the trip was cancelled. I was crestfallen! I parked the car on the roadside and told him that I planned to jump on as he had suggested. A minute later he laughed and said that he was kidding and that I am most welcome, as long as I paid for his coffee at his favorite restaurant in Mustang.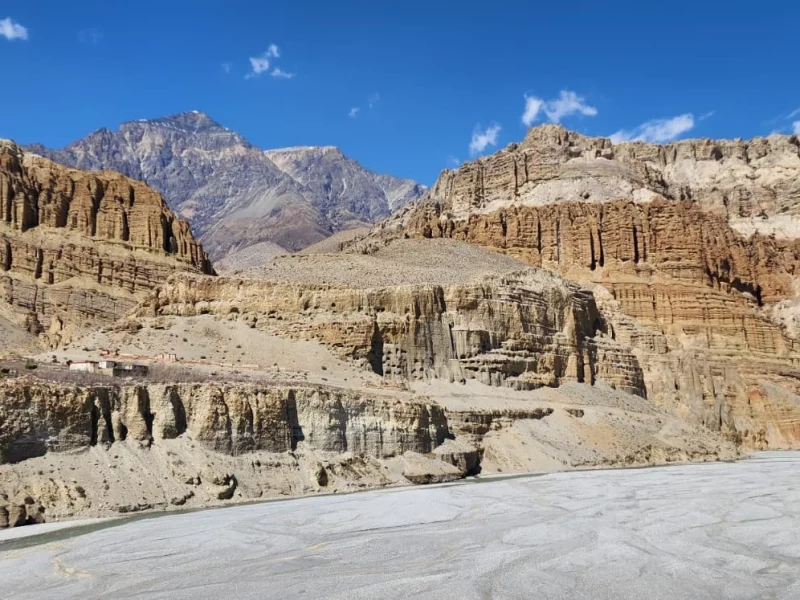 Driving to the Nepal border
Rahul asked if I wanted to drive to the Nepal border. I agreed and had a load of fun driving away from the hustle and bustle of India to the Daal-bhaat (Lentils and rice – a Nepalese staple) eateries of Nepal. I had my first Nepalese meal 9 hours and 360km later in Nepal. Woohoo! We had spent the day clearing immigration (a breeze for Indian nationals) and chit-chatting about the days to come.
A chance encounter with a rhino in Bardiya National Park!
Day 2 of our drive began early. We were to drive through the Bardia district in Nepal, famous for its wildlife sanctuary. An hour into the sanctuary, one of the jeeps leading the group braked and the driver pointed to the right. I got out to ask, and he said Rhino! I looked and caught a glimpse of a one-horned rhino walking away into the wilderness. Later I was told that this was an experience of a lifetime because Rhinos are extremely elusive and do not show up at daytime close to the highway. We stayed at a small but comfortable hotel on the way to Pokhara.
Ghariyals, Phewa lake and the ancient Muktinath temple
Day 3 and 4 were spent getting to Pokhara and doing some local sightseeing in Pokhara. We went to a river crossing on the way where we saw some ghariyals (long-snouted crocodilians) on the way. The rest of the drive was full of adventures and chance encounters with swamp deer, Gangetic River dolphins, droves of Elephants and Sarus cranes that frequent the Karnali riverbanks and this sanctuary. We reached Pokhara late in the evening and had our first coffee at a small café the next morning. Rahul saw me at the café and quickly hopped over for a coffee. I told him that letting me drive was enough for me to cover his coffees for the rest of the trip. He laughed, agreed and we went off to visit the famous Muktinath temple.
Muktinath, also known as Chumig Gyatsa is an ancient temple that is revered by both Hindus and Buddhists. Hindus regard this temple as one of the 108 divya desams. Tibetan Buddhists consider Muktinath as a temple of Dakinis (sky dancers). The temple is a sight to behold. It has 108 waterspouts called muktidhara, which give it its name. We spent the rest of the day having fun doing some local sightseeing in Pokhara.