Driving to the Spiti valley in the winters—Do's and don'ts for planning the perfect winter getaway
So, you've seen our trip videos and dozens of others on the internet. You have the excitement, the adrenalin rush and the itch to go to Spiti in the winters. But, are you prepared for it? Here's our detailed guide about planning a trip to Spiti in the winters and preparing for it to ensure that you enjoy your trip to the max.
A trip to the frozen Spiti valley in the winters is possibly the coolest thing you'll ever do! Literally! However, like every trip you take, you must plan your trip and prepare for it in advance to ensure that you can enjoy it to the max! This blog will list what you need for a trip to the Spiti valley in the winters and how you can make the most of it. We've segregated this blog into 4 sections so you can easily understand what it takes to be in Spiti in the winters and what all you need to plan for the trip.
Planning a trip to the Spiti valley in the winters
Spiti is beautiful—especially in the winters. Don't take our word for it, see our videos and photos to find out for yourself! However, you must understand what you're getting into before you take this trip. The first section of this blog will deal with questions that we're asked very frequently.
Spiti winter drive FAQs
What is Spiti like in the winters?
It's cold. It's horribly, terribly, insanely cold in Spiti in the wintertime. Temperatures at daytime seldom go above -10 and can fall to -35 degrees (C) at night.
It occasionally snows in Spiti and the entire valley will be covered with a blanket of snow in the winters. Rivers might be frozen, waterfalls will be frozen, there will be no running water because the pipes that carry water will be frozen. So, before you decide to land up in Spiti in the wintertime without being prepared for it, you're in for a very nasty (and possibly life-threatening) surprise.
When is it coldest in Spiti?
It begins to get quite cold in Spiti in early November and peak winter hits around December. Temperatures hover between -5 to -35 between mid-November and March. The higher reaches of Spiti consistently get snow during this period. Lakes, small rivers and waterfalls freeze during this time and you won't find flowing water anywhere except in the Spiti river.
Are hotels open in Spiti in the winter?
You will mostly find homestays and few hotels that offer basic services in Spiti during the wintertime. Most hotels will be closed. Locals in Spiti are very welcoming in both summers and winters.
Are roads to Spiti open in the winters?
Although the PWD and BRO keep the road to Spiti open at all times, understand that roads may stay closed until they get to it. For example, in 2013, an exceptionally severe cold wave and snow storms kept the road to Spiti closed for nearly a month.
Can I take my car to Spiti in the winters?
If you have a 4×4 SUV and have snow chains at hand, yes you can. You cannot take just about any car to Spiti in the winters. Your car must have high ground clearance and must be powerful enough to drive through snow in low gear for hours.
What are the road conditions in Spiti in the winters?
Roads are mostly covered with ice and snow, and occasionally black ice. The roads are often broken, slippery and it requires experience and skill to maneuver through ice and snow.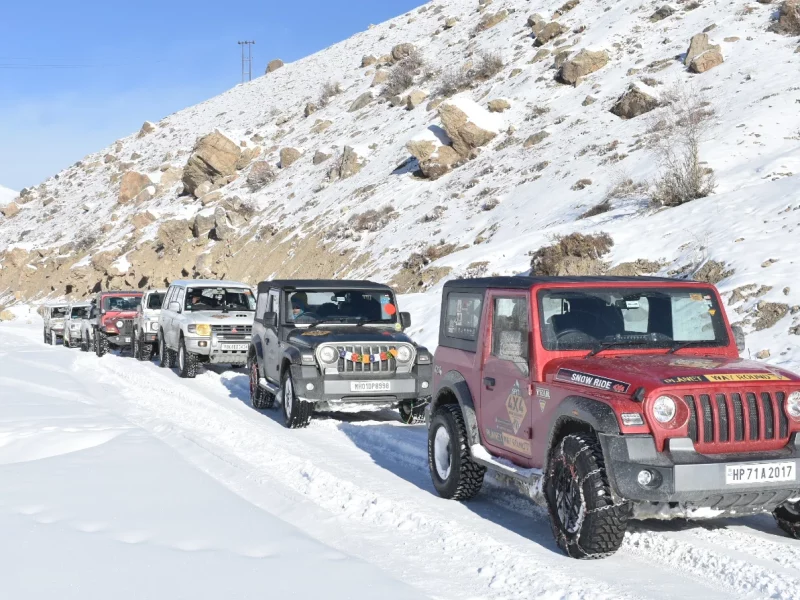 I have never been to Spiti before. Can I drive to Spiti in the winters?
If you're an experienced driver who can follow directions, you can easily drive to Spiti. However, understand that roads are full of stones, frozen mud, water, black ice and snow. A hard brake or a wrong turn can cause serious problems, damage your vehicle or render you stranded in sub-zero temperatures.
Are ATMs open in Spiti in wintertime?
Carry enough cash and some spare cash. No one can tell for sure if ATMs will be working as they might be shut due to power outages in the region, which are pretty common in the winters. The SBI ATM or bank will provide cash in Kaza, but it is limited to 1000 rupees a day. Draw cash in your hometown and take it along.
I am vegetarian. Will I be able to get food of my choice in Spiti in winters?
We're not sure. Although most homestays serve vegetarian food, the range of food on offer and the type of food available may be severely limited. Do not expect salads, fruits, bottled water and other groceries to be readily available, if at all. Traditional Spitian food will be available.
Can I drink alcohol in Spiti?
Yes you can, but we would strongly advise staying away from liquor and other intoxicants as they can impact your reaction times and judgement.
Are there toilets with running water?
No. There is no running water available in Spiti during the wintertime as water freezes in sub-zero temperatures. Only dry pits are available. Taking a hot shower or having luxuries that you're used to in warmer regions is impossible in Spiti. If you cannot live without a bath, stay home 😊
Are there many tourists in Spiti during the wintertime?
Not really. Even though Spiti is full of tourists in the summers, not many dare to venture into Spiti in the wintertime because of the extreme conditions.
Can I ride my cycle/motorcycle to Spiti in the winters?
Nope. It is suicidal to ride at sub-zero temperatures. Cars, buses are the way to go in the winters.
Is there public transport in Spiti in the winters?
Hardly any. You may find a shared cab or a solitary Himachal Roadways bus to Spiti. Locals mostly hike from one village to another as it is often faster than driving.
Do mobiles work in Spiti in the winters?
Mobile connectivity in remote regions like Spiti is horrible even in the summertime. Do not expect high-speed internet or even a mobile signal in the wintertime. Towers can be knocked out due to the erratic power supply. Connectivity might not get restored for weeks sometimes. BSNL is the only network that works in some areas.
Are hospitals and medical facilities available in Spiti in winters?
Do not expect much in terms of medical facilities or availability of medicines. Kaza has a hospital but facilities might not be at their best in the winters. Patients are often airlifted from Spiti in the winters, but only if the weather is conducive. Ensure that you're in good health and carry a month's supply of essential medicines. Even if you do not need it, you might be able to help someone in need.
Are all tourist destinations open in Spiti in the winters?
Sadly, no. Chandratal, Dhankar, Kunzum, Lhalung, Langza and many others will be closed. Tourist villages in Spiti are either closed or only accessible by foot. Do not try to venture there alone. Take a local or your tourist guide along. Expect to miss most of the destinations that you can see in the summers.
What is the best way to go to Spiti in the winters?
The best way to go to Spiti in the winters is with an experienced tour operator like Planet Way Round. Alternatively, you can take a Himachal Roadways bus (if the bus service is operational) or take a shared taxi from Shimla or Reckong Peo.
Is the Manali-Kaza road open in the winters?
No. The Manali-Kaza road via the Kunzum pass is closed during the wintertime. You can only take the Shimla – Kinnaur – Spiti road during the winters.
Preparing for your Spiti winter trip
Now that we've answered all your basic questions, here's what you need to ensure that you have a great trip to Spiti in the wintertime. In this section, we're assuming that you are either driving to Spiti on your own or you're going with someone who is driving to Spiti.
Itinerary, map and documents
Plan your itinerary in advance. Type it out in excruciating detail along with any backup plans. Add hotel numbers and addresses to it. Print it and keep a copy in your car and your bag.
Even if you have everything on your mobile, print your itinerary, hotel or guest house bookings and the map of where you're going and keep it with you. You never know where you need it. Keep your ID proofs, license and vehicle registration papers in order. If you're a foreigner, keep your passport and visa copies with you. Carry all permissions needed and if required, vaccination certificates and a negative RTPCR report. Keep emergency phone numbers and hotel/home stay numbers handy.
Clothing
Staying warm is essential for survival in Spiti. Layering is considered to be the best option for staying warm in extreme cold conditions. Here's our recommendation of what you can wear in Spiti in the winters:
Carry warm jackets that are certified to work at -35. Local market gloves and jackets you wear in the plains do not work in Spiti. A good down feather jacket or reflective ski jacket is a good way to keep you warm. Ski gloves are great to keep your hands both dry and warm. Multi-layer jackets help you layer up without the added bulk.
Carry warm innerwear such as a polar thermal base layer that can keep your body insulated against the cold.
Insulated and fleece lined pants are a great fit over the base layer. They keep your legs warm in Spiti's harsh climate.
Insulated, waterproof, multi-layer socks are the best, unless you are wearing snow boots. As driving is literally impossible with snow boots, warm winter boots with liners are equally good.
Scarves are great to keep your neck warm. You can even use buffs if they are made of a warm material.
There's an old Inuit saying that if your feet are cold, wear a cap. A warm, multi-layer cap is essential and will keep you comfortable in Spiti. You can omit the cap or wear a thin one if you have a parka.
Great to keep you warm when indoors or outdoors only if you are already wearing warm clothing.
If you are asked to carry one, carry a sleeping bag that is certified to work at-15. Normal sleeping bags will not keep you warm in Spiti.
An essential for any trip.
It is easy to get winter glare, and in extreme conditions, snow blindness. Wearing sunglasses is a great way to reduce vision-related headaches and keep your eyes working as well as they should. Additionally, they protect your eyes from cold wind blasts.
Medication
Carry all your essential medicines along. A medicine kit will go a long way in ensuring that you have what you need when you're unwell.
Note: Ensure that you speak with your doctor before you get the medicines listed in this blog. Planet Way Round is not responsible for any medical issues arising from taking medication we list in this blog.
Keep the following handy:
Most important: Keep a double stock of all your essential and prescription medicines.
Antipyretics (fever reducers) such as paracetamol

Painkillers for bodyache and headache such as paracetamol or ibuprofen

Antihistamines

Antacids

Probiotics

Antiseptic lotion

Bandages

Eye drops

Nasal decongestant

Sunscreen and moisturiser

Lip balm

Oral rehydration salts (ORS)

Glucose powder

Altitude sickness medication – ONLY after consultation with your doctor

Portable oxygen cylinder

SPO2 monitor
Food and other eatables
Carrying your own rations can make the difference between life and death for someone stranded in Spiti in the winters. Ensure that you consult your doctor before taking things in this list if you have any medical conditions.
Note: Planet Way Round is not responsible for any medical emergencies arising due to your use of the eatables in this list. Consult your doctor before you go on the trip.
Fresh fruits – if you have a car and you can carry them

Biscuits

Namkeen

Chocolates – these are great as an energy booster

Instant coffee and tea packets

Instant cup noodles and other instant foods

Energy bars

Milk powder

Dry rations if you have the space and you believe you will be cooking

Extras: stove with butane cylinder to cook on

Knife, fork, spoon

Plate

Cup or mug

Bottle
Essentials for your vehicle
If you are planning to drive to Spiti, ensure that you get your vehicle serviced before you leave. Check and include the following:
Drive a 4×4 SUV only. Do not try to take a 2-wheel drive car. You will end up getting stuck in the snow

Snow chains

Antifreeze

Engine cloak – essential for diesel cars

New or near new tyres. Worn tyres will slip and skid

Spare bulbs for your headlamps

Spare tyre

Tow chain

Tyre inflator

Torch and batteries

Spare cash in the car

Portable charger for mobiles and a charger in the car

General vehicle spares (as per need)
Whew! That was quite the list. Although we're sure we might have skipped a thing or two, this is possibly the most comprehensive guide to a winter in Spiti you'll find anywhere online. At Planet Way Round, we take no chances when it comes to guest safety. We've been taking trips to Spiti in the winters for a long time and we're ready for un-eventualities when they strike. All our winter Spiti trips have essential spares, an additional vehicle with a mechanic and basic medical assistance along. Our experienced tour guides will explain your trip, its requirements and other important things in detail so that you have an amazing time in Spiti in the winters.
Planet Way Round is a highly experienced, world-class Winter Spiti Tour operator that will help you enjoy this winter wonderland to the max. Contact us to know more about our Spiti winter tours and other winter tours or check out our website for the upcoming tours today!