What to Expect on the Guided Motorbike Tour
All of our guided motorcycle tours be they in India, Bhutan, Nepal or Tibet, are led by guides with a minimum of  several years of experience under their belt. With over 22 years of travelling in the Himalayas our team has gained tremendous experience are we are at home on the most demanding tours and can handle the most adverse circumstances with confidence.
Our guides all have their own styles, of course, but one thing they all have in common that they like to encourage "free riding". In other words, the guide doesn't lead the way, but arranges meeting points ahead for the group. This has the advantage that you can pull over for a photo at any time and aren't stuck following the tour guide – unless that's your preference.
Every motorbike tour is escorted by an 4×4 support vehicle to carry your bags and offer pillion passengers a comfortable alternative when they get tired or don't feel like sitting back any more. The support vehicles also have our accompanying experienced mechanic in them and if a bike breaks down they fix them on the spot or if a bike can't be fixed quickly by the roadside, then mechanic will repair it in the evening after our arrival at the hotel. We even carry an spare bike, so you can keep riding right away without missing a thing.
And if for for some reason you can't ride or don't want to, our mechanic will gladly take over your bike until you're up to riding again. That way you can stay fresh all along and easily visit places of interest – a special restaurant in the evening, for example – after reaching the day's destination and parking your bike for the night.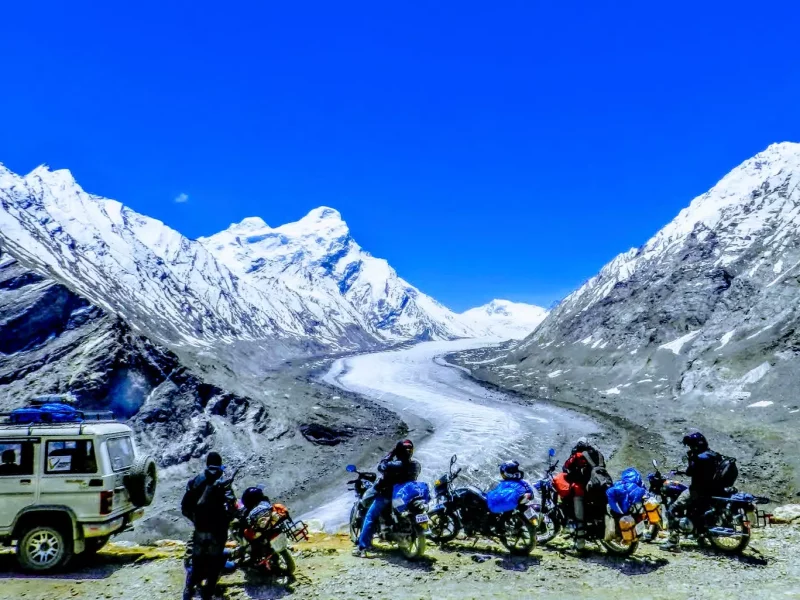 Comfort is an important aspect for us. Wherever possible, we like to stay in beautiful, hand-picked hotels and guesthouses that have their own unique charm. Of course, this is not always possible in remote areas, in which case we always choose the best available option. But even a simple camp of wooden huts with a fantastic view – like the one at Lake Pangong on our Ladakh tour or an homestay in a village in Himachal  or an camp by the dunes in Rajasthan – can be a real highlight.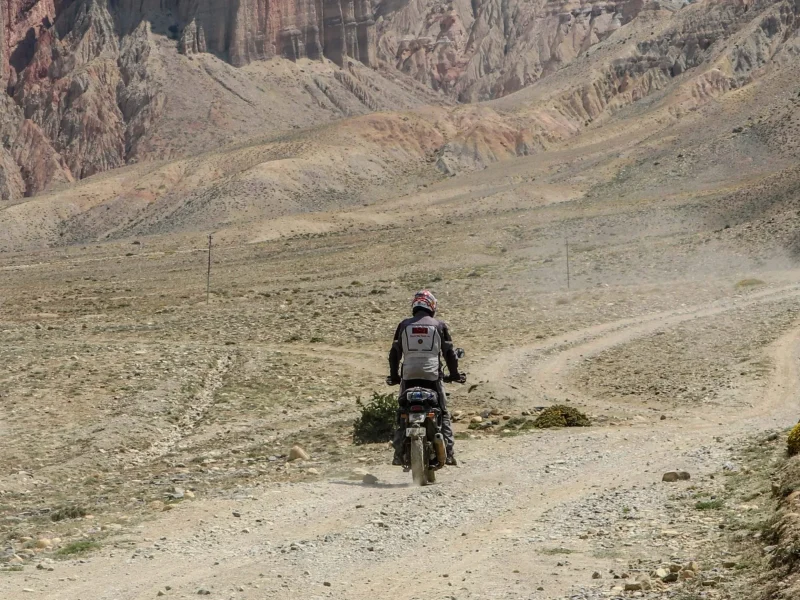 Whichever tour you choose – one thing is certain: you can count on our team for true adventure and unforgettable motorcycle tours.
Some of our popular guided motorcycle tours are as below.
Himalayan Motorcycle Tour – Zanskar via Shingo La
Ride to Upper Mustang " Lo Manthang" Nepal
Himalayan Motorcycle Tour from Spiti Valley to Pangi Valley
Royal Bhutan Motorcycle Tour
Ladakh Motorcycle Tour for Women – 4 Lakes and 12 Passes of Himalayas
Ladakh Way Round Guided Himalaya Motorcycle Tour
Lahaul and Spiti Guided Himalayan Motorcycle Tour
Breathtaking Bhutan Cultural Motorcycle Tour
Motorcycle Journey from Nepal to Tibet